IMPACT AND BENEFITS OF NATURAL GROUNDWATER RECHARGE BY WIDENING AND DEEPENING OF A STREAM. A CASE STUDIED OF A STREAM IN AURANGABAD DISTRICT
Keywords:
Ground water, Static water level, stream line, irrigation, excavation, C.N.B., Hydrostatic pressure
Abstract
Groundwater conditions are the primary source of drinking and irrigation water in rural Maharashtra. The static groundwater level has fluctuated dramatically during the last few years in the study area. A scientific approach of naala deepening and widening influenced in the area, we measured static water level in the dug wells by well inventory method, before and after work. A stream having length about 20 km were studied ignoring confluence point. The 1 st order and the last order are varied in excavation depth gives rise to good result in the region. Streams are deepening up to the weathered rocks by excavation and in some places deepening is more than 12 meters so widening will be proportionate to it. The general concept of excavation is to touch the weathered rock as a naala bed. The recharge is seen in the nearby dug wells. Excavations of intercalated calcic bed in the naalas are the basic barriers for the percolations have been removed. Widening and deepening gives more man days for percolations while run off is steady slow because of some engineering structures like CNB. In the plateau area storage capacity is automatically increased by widening and deepening of streams hence much more volume of surface water will be percolated by overlain hydrostatic pressure into the ground vigorously. And approximately more than 20 villages around stream line are benefitted for the basic need of drinking and irrigation. Water level in the wells shows recharge beginning from the first rain of monsoon.  
References
I. Aurangabad District Disaster Management Plan 2020-21. P. 181
II. Aurangabad District Disaster Management Authority (DDMA) District Disaster Management Plan 2020-21, Collector office Aurangabad.
III. Balpande U.S (. 2013) Central region Nagpur, Govt. of India ministry of water resources central ground water board, Ground water information Aurangabad district Maharashtra. P.167.
IV. Central Ground Water Board (2019) Aquifer Mapping and Management of Ground Water Resources Aurangabad district, Maharashtra. Central Region Nagpur, Department of water resources river development and Ganga rejuvenation, Ministry of Jal Shakti Government of India. P.203.
V. Government of Maharashtra Water Resources Department (2019) Water Auditing of Irrigation Projects in Maharashtra State 2017-18; April, 2019, p.211.
VI. Government of Maharashtra (2019). Taluka and monthwise average rainfall. Government Resolution No. SCY-2019/P.Kr.134/M-7, dt. 12.05.2020.
VII. Khare Y.D., Varade A.M., Lamsoge B.R. and Deshmukh S (2020), Challenges in Sustainable Development of Groundwater Resources in Maharashtra. An Integerated approach. ( JGSR Vol 05 , No.01) Pp. 17-25.
VIII. Pande C. and Khadri S. (2018) Assessment of groundwater potential Zonation of Mahesh River basin Akola and Buldhana districts, Maharashtra India Using remote sensing and GIS Techniques. (Sustainable water resources Management.
IX. Sonar M. A., Tribhuvan P.R. and Malik M. A. (2018) Aquifer characteristic in hard rock terrain GP-8 watershed, Aurangabad district Maharashtra using vertical electrical sounding method. (JGSR, vol. 3 No 2 pp153-162).
X. Suganthi S., Elango L, and Subramanium S K, (2013), Groundwater potential Zonation by remote sensing and GIS techniques and its relation to the groundwater level in the coastal part of the Arani and Koratalai River Basin, Southern India. Earth Science Research SJ.Vol.No.2;87-95.
XI. Websites: -
XII. https://aurangabad.gov.in/tehsil/#:~:text=Administratively%2C%20the%20district%20is%20having,Aurangabad%20Rural
XIII. https://cdn.s3waas.gov.in/s318d8042386b79e2c279fd162df0205c8/uploads/2020/07/2020073050.pdf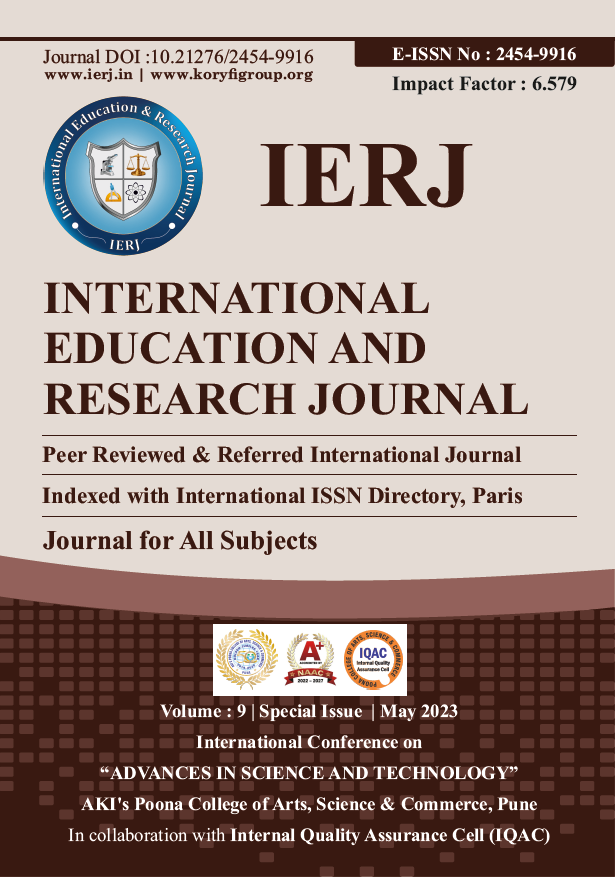 Additional Files
How to Cite
M.A. Malik, Muneeb ur Rahman, & Mehejabin N.A.Sayyad. (2023). IMPACT AND BENEFITS OF NATURAL GROUNDWATER RECHARGE BY WIDENING AND DEEPENING OF A STREAM. A CASE STUDIED OF A STREAM IN AURANGABAD DISTRICT. International Education and Research Journal (IERJ), 9(5). Retrieved from https://ierj.in/journal/index.php/ierj/article/view/2696
License
Copyright (c) 2023 International Education and Research Journal (IERJ)
This work is licensed under a Creative Commons Attribution 4.0 International License.