SURVEY AND MORPHOLOGICAL STUDY OF SOME OF THE MEMBERS OF ARACEAE JUSS. FAMILY FROM PARBHANI TAHASIL (M.S)
Keywords:
Araceae, garden plants, Sauromatum, Typhonium
Abstract
Monocot family  Araceae is known as Aroids or Arum family represented by 144 generas and 3645 species, cosmopolytene in occurance  in which some are endeimic to particular region and  most are cultivated as garden plants for campus beautification as they are with various morphological forms. The characteristic feature is presence of spadix type of inflorescence, variously coloured leaves and modified stem may be corm/rhizome /tubers. The present study was conducted for survey of Araceae family members from Parbhani, during acd.yr . 2022-23, surveys were made for collection of plants from various parts of parbhani tahasil .  Collected plant specimes were identified with different floras and made into herbarium and deposited in Botany department herbarium, Shri. Shivaji College, Parbhani. Generas of Araceae identified are Aglaonema, Alocasia, Anthurium , Caladium, Colocasia , Diffenbachia,Monstera, Pistia , Philodendron, Syngonium, Spathiphyllum , Sauromatum and Typhonium . The current paper deals with morphological studies of some of the selected members of Araceae listed above .
References
I. Boyce,P.C.& Croat, T.B.(2011) .The Uberlist of Araceae, totals for published and estimated number of species in aroid genera .https://doi.org/10.13140/RG.2.2.24820.09605
II. Sharma O.P. Plant Taxonomy .McGraw Hill Education(India) Private limited, New Delhi, 2015; 507-509.
III. Croat T.B , Teisher J, Hannon, L.P & Kostelac, C.V (2019). Araceae of the LitaSan Lorenzo Region (Esmeraldas Provinace, Ecuador).Part 1:Anthurium sect.Polyneuriu. Annuals of issouri Botanical Garden,104(1), 105-168.https://doi.org/10.1002/tax.592009.
IV. Hooker J.D Aroideae in Hooker J.D , The Flora of British India, L . Reeve & Co.Ltd. The Oast House ,Brook . Ashford, Kent, England . 1893;6:490-555
V. Cook T. 1(1903) .Flora of Presidency of Bombay .Vol.I , Kolkatta, Botanical Survey of India p.645
VI. G.H.Gore,R.S.Neel and A.S Bhuktar 2019. Bioinfolet 16(1+2) : 54-55 , 2019
VII. HennyR.J and J. Chen.2001. " Agalonea' Golden Bay'' . HortScience 36:1142-1143.
VIII. K.M.athew(1983). The Flora of Tamilnadu Carnetic Part Three; 1685-1704 Diocesan Press, Madras 600 007, India
IX. King & Prain, J.Asiat.Soc.Bengal Pt.2. Nat.Hist.67:301.1898& Bengal Pl. 1107.
X. Sonule M.D , Syed Sabiha V,Kondekar C.V (2019 ) Typhonium Innopinnatum prain (Araceae : Areae); A new report to the floraof Marathwada Bio-Infolet Vol.4 ;242-243
XI. Sharma B.D, Karthikeyan S & Singh NP (1996) Floraof Marathwada State, Monocotyledons , Botanical Survey of India , Calcutta, 220p.
XII. Yadav & Sardesai , Floraof Kolhapur ,519(2002)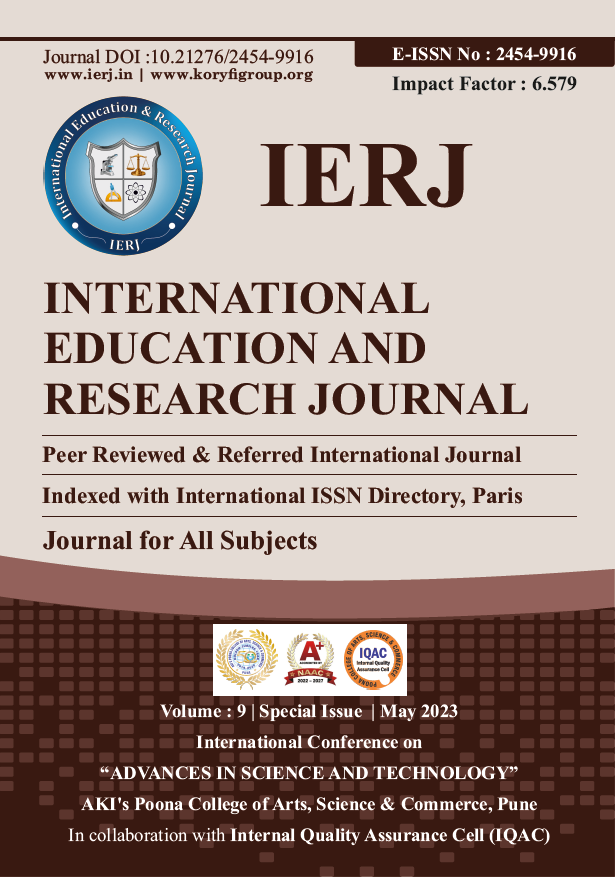 Additional Files
How to Cite
Sabiha V Syed (Bagwan). (2023). SURVEY AND MORPHOLOGICAL STUDY OF SOME OF THE MEMBERS OF ARACEAE JUSS. FAMILY FROM PARBHANI TAHASIL (M.S). International Education and Research Journal (IERJ), 9(5). Retrieved from https://ierj.in/journal/index.php/ierj/article/view/2693
License
Copyright (c) 2023 International Education and Research Journal (IERJ)
This work is licensed under a Creative Commons Attribution 4.0 International License.