ANTIMICROBIAL ACTIVITY, ANTIPROLIFERATIVE ACTIVITY, NITRIC OXIDE SCAVENGING ACTIVITY AND PHYTOCHEMICAL ANALYSIS OF ETHANOL LEAF EXTRACTS OF ANACARDIUM OCCIDENTALE L.
Keywords:
Anacardium occidentale L., anti-bacterial activity, anti-proliferative activity, Bio- active compounds
Abstract
In this study, ethanolic extract of leaves of Ancardium occidentale L. were utilized against diabetic foot ulcer pathogens and dandruff causing fungi and anti-proliferative activity. The most effective anti-bacterical activity of ethanol extracts of Anacardium occidentale L. was 100 µg/mL, Minimum bactericidal concentration was 1mg/mL and antifungal activity was found against Aspergillus flavus. It showed 70% at 540nm (0.006 absorbance) of nitric oxide inhibition activity. GC-MS analysis showed several bio-active compounds with antimicrobial, anti-cancer, anti-oxidant, larvicidal activity, anti-cancer activity etc.
References
Cheesman, M.J., Ilanko, A., Blonk, B., Cock I.E., (2017). Developing New Antimicrobial Therapies: Are Synergistic Combinations of Plant Extracts/Compounds with Conventional Antibiotics the Solution. Pharmacognosy Review., 11(22): 57–72.
Soumya Prakash Rout., Choudary, K.A., Kar, D.M., Lopamudra Das., Vijeet Jain, A., (2019). Plants in traditional medicinal system –Future source of new drugs. Int J Pharm Pharm Sci., Vol. 1, pp. 1-23.
Aslani Banasheh Amir., Ghobadi Sirous., (2016). Studies on oxidants and antioxidants with a brief glance at their relevance to the immune system, Life sciences.
Mizra Hasanuzzaman., Masayuki Fujita., (2022). Plant Oxidative Stress: Biology, Physiology and Mitigation. Multidisciplinary Digital Publishing Institute. doi: 10.3390/plants11091185.
Saidy, A.N., Akanya, H.O., Dauda., B.E.N., Ogbadoyi, E.O., (2012). Antibacterial and comparative hypoglycemic effect of Anacardium occidentale leaves. International Research Journal of Biochemistry and Bioinformatics., 2(1): 006-010.
Bamigboye., J.T., Temidayo, D.P., Fanie, R.H., Amos, A.F., (2020). Pentagalloylyglucose, isolated from the leaf exract of Anacardium occidentale L., could elicit rapid and selective cytotoxicity in cancer cells. BMC Complementary Medicine and Therapies., 20 (1): 1-9.
Bamigboye., J.T., Amos, A.F., Olujide., O.O., Olukemi, T.B.T., Fanie, R.H., (2017). Identification of compounds with cytotoxic activity from the leaf of the Nigerian medicinal plant, Anacrdium occidentale L. (Anacardiaceae). Bioorganic & medicinal chemistry., 25(8): 2327-2335.
Boateng, J.S., Matthews, K.H., Stevens, H.N.E., and Eccleston, G.M., (2008). Wound healing dressings and drug delivery systems: a review. Journal of Pharmaceutical Sciences.,97(8): 2892–2923.
Ayub, M., Rizwan, H., Siddique, S., and Maryam, U., (2015).Isolation of Pathogens causing Sepsis, Pus and infected wounds from Critical Care Unit (CCU): A Retrospective Study. Annals of Clinical and Laboratory Research., 3: 4.
Dafni, C.G.S., Hanna, M.D.S., (2022). Anacrdium occidentale L (cajueiro) in the healing of skin wounds: an experimental study in rats. Experimental surgery., https://doi.org/10.1590/acb37IOO6.
Carvalho, N.S., Annoni, R., Silva, P.R., Fock, R.A., Trevisan, M.T., Mauad, T., (2011). Acute, sub-acute toxicity and mutagenic effects of anacardiac acids from cashew (Anacardium occidentale Linn.) in mice. J Ethnopharmacology., 135 (3): 730-736. https://doi.org/10.1016/j.jep.2011.04.002.
Johnson, M.P., Ruban, A.V., (2010). Arabidopsis plants lacking PsbS protein possess photoprotective energy dissipation, Plant J. 61 (2): 283–289.
Akrayi, H.F.S., Abdulrahman, Z.F.A., (2013). Evaluation of the antibacterial efficacy and the phytochemical analysis of some plant extracts against human pathogenic bacteria, JPCS (7): 29–39.
Prabhuswamy, B., Mallikarjun, N., Nagaraj, K., Venugopal, T.M., Somasundar, K., (2016). Antibiogram profile and antibacterial efficacy of medicinal plant extracts on Streptococcus mutans: An in-vitro study. Int J Clin Den Sci 7:1-7.
Antara sen., Amla batra., (2012). Evaluation of antimicrobial activity of different solvent extracts of medicinal plant: Melia azedarach L.
Faraja, D., Gonelimali., Jiheng Lin., Wenhua Miao., Jinghu Xuan., Fedrick Charles., Meiling Chen., Shaimaa, R., Hatab., (2018). Antimicrobial Properties and Mechanism of Action of Some Plant Extracts Against Food Pathogens and Spoilage Microorganisms. Frontiers in Microbiology. https://doi.org/10.3389/fmicb.2018.01639.
Singh, J., Tripathi, N.N., (1999). Inhibition of storage fungi of blackgram (Vigna mungo) by some essential oils, Flavour Fragrance J. 14:1–4.
Bouchra Qaddouri, Abdelkarim Guaadaoui, Ahmed Bellirou, Abdellah Hamal, Ahmed Melhaoui, Grant W. Brown, and Mohammed Bellaoui., (2011). The Budding Yeast "Saccharomyces cerevisiae" as a Drug Discovery Tool to Identify Plant-Derived Natural Products with Anti-Proliferative Properties, Evidence-based Complementary and Alternative Medicine. doi: 10.1093/ecam/nep069
W. Fabry, P. Okemo, R. Ansorg, Fungistatic and fungicidal activity of East African medicinal plants, Mycoses 39 (1996) 67–70.
Debiyi, O.O., Sofowora, F.A., (1978). Phytochemical screening of medical plants, Iloyidia 3: 234–246.
Panda, B.N., Raj, A.B., Shrivastava, N.R., Prathani, A.R., (2009). The evaluation of nitric oxide scavenging activity of Acalypha indica Linn Root, Asian J. Res. Chem. 2 (2): 148– 150.
Purayil, K., Annley, C., et al., Evaluation of antioxidant and antimicrobial activity of some plants collected from Malaysia, J. Pure Appl. Microbiol. 13 (4) (2019) 2363–2373, https://doi.org/10.22207/JPAM.13.4.52.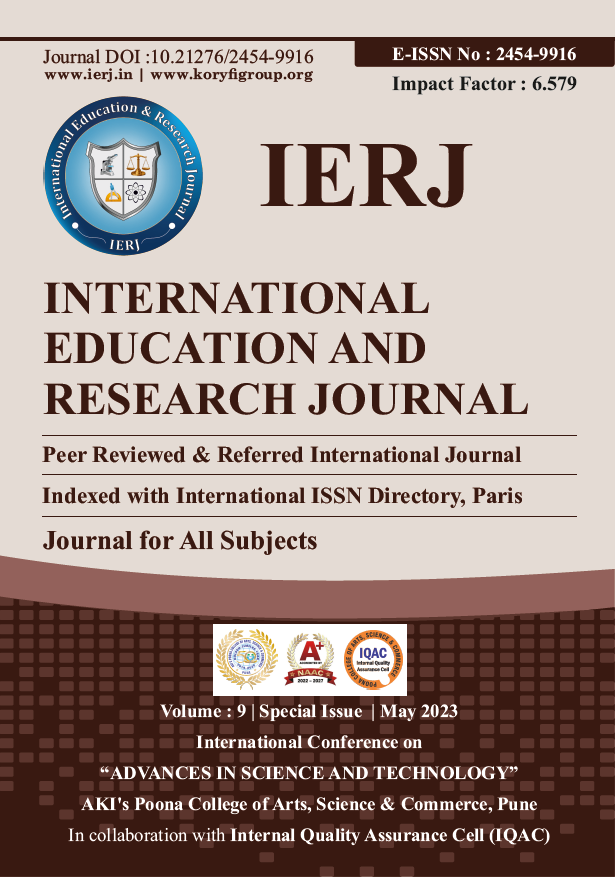 Additional Files
How to Cite
P. Preethi, & B. Geetha. (2023). ANTIMICROBIAL ACTIVITY, ANTIPROLIFERATIVE ACTIVITY, NITRIC OXIDE SCAVENGING ACTIVITY AND PHYTOCHEMICAL ANALYSIS OF ETHANOL LEAF EXTRACTS OF ANACARDIUM OCCIDENTALE L. International Education and Research Journal (IERJ), 9(5). Retrieved from https://ierj.in/journal/index.php/ierj/article/view/2692
License
Copyright (c) 2023 International Education and Research Journal (IERJ)
This work is licensed under a Creative Commons Attribution 4.0 International License.