ISOLATION AND IDENTIFICATION OF MICROFLORA ASSOCIATED WITH DENTAL PROSTHESIS
Keywords:
Dental prosthesis, Oral microflora, Oral flora diversity
Abstract
Complete and partial dental prosthesis or dentures act as a reservoir for microbial colonization, which may lead to systemic infections including aspiration pneumonia, gastrointestinal infections, and chronic obstructive pulmonary diseases. Denture wearers frequently use fingers to wear and remove the prosthesis in their mouth and store them overnight in water. Thus, the aim of this study was to isolate, quantify, identify, and compare microorganisms found in dentures, determine the frequency of pathogenic isolates and to explore and examine all the possible sources that contaminate the dental prosthesis.
Cultures in aerobic conditions were cultivated on solid non-selective and selective media. Biochemical methods which are conventional were used to identify the microorganisms.
Present study compared the diversity present in different category of samples and on calculation of diversity indices, denture swab sample showed higher diversity whereas samples of denture water or storage water showed less diversity.
This study evaluated the prevalence of Bacillus, Micrococcus, Staphylococcus, Streptococcus and Candida spp. Thus, the microbial population in dentures should be considered  a potential source of oral and systemic diseases.
References
I. Deo. P. N. and Deshmukh, R. (2019) Oral microbiome: Unveiling the fundamentals. Journal of Oral and Maxillofacial Pathology. 23(1),122-128.
II. Nagaral, S., Desai, R. G., Kamble, V. and Patil, A. (2014) Isolation of Candida species from the oral cavity and fingertips of complete denture wearers. Journal of Contemporary Dental Practice. 15(6), 712-6.
III. Dahlen, G., Blomqvist, S., Almstahl, A. and Carlen, A. (2012)Virulence factors and antibiotic susceptibility in enterococci isolated from oral mucosal and deep infections. Journal of Oral Microbiology.4:10855.
IV. Byadarahally, R.S. and Rajappa, S. (2011). Isolation and identification of Candida from the oral cavity. 487921.
V. Manikanandan, C. and Amsath, A. (2013) Isolation and rapid identification of Candida species from the oral cavity. International Journal Of Pure And Applied Zoology.1(2):172-177.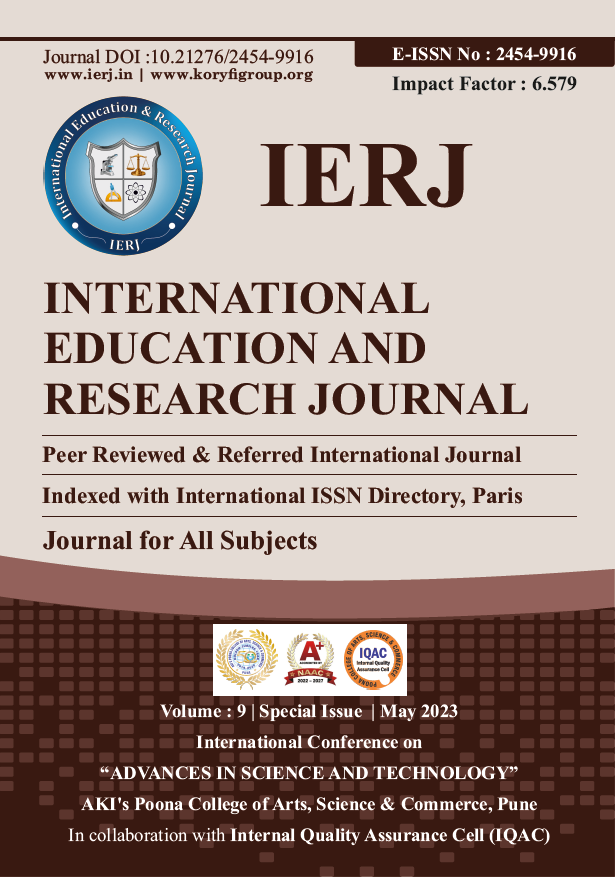 Additional Files
How to Cite
Snehal Kulkarni, Rubina Shaikh, & Monika Dheringe. (2023). ISOLATION AND IDENTIFICATION OF MICROFLORA ASSOCIATED WITH DENTAL PROSTHESIS. International Education and Research Journal (IERJ), 9(5). Retrieved from https://ierj.in/journal/index.php/ierj/article/view/2684
License
Copyright (c) 2023 International Education and Research Journal (IERJ)
This work is licensed under a Creative Commons Attribution 4.0 International License.